Nulled Forum Download Free Nulled and Cracked Tools
›
Others
›
Android Apps
[Android]

Aplicativo Para Converter Seu Site Responsivo Em App Android
Android Aplicativo Para Converter Seu Site Responsivo Em App Android
Contributor
Posts:
420
Threads:
17
Joined:
Jan 2018
Reputation:
Country:
Aplicativo Para Criar App´s e Converter Seu Site Responsivo Em App Android
Descrição  abaixo da imagem...
Quote:LINK PARA DOWNLOAD



You must reply to this thread to see hidden links.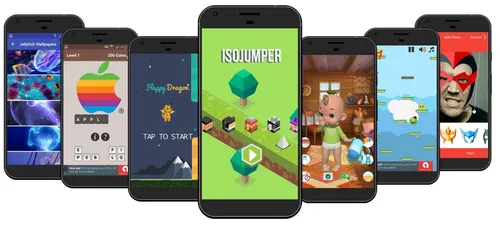 Criador de aplicativos

Não é necessário instalar nada no seu computador, criar aplicativos Android sem sair do seu navegador
Treinamento Gamified
Aprenda a criar o negócio do aplicativo a partir do zero de uma maneira nova e divertida
Mais de 20 modelos nativos
Acesse todos os modelos de aplicativos e jogos existentes e futuros
Monetização direta
Monetize seus aplicativos e receba o pagamento diretamente em sua conta Admob
Notificações de envio ilimitadas
Aumente o envolvimento dos usuários e promova os seus aplicativos com notificações push direcionadas
Academia AppyGEN
Saiba tudo sobre o negócio do aplicativo com nossas 30+ aulas da academia
Aplicativo Analytics
Acompanhe o tráfego para todos os seus aplicativos e jogos em tempo real
Plugins de aplicativos
Dê aos seus aplicativos algumas superpotências com os plugins do AppyGEN
Ferramenta de pesquisa de nicho
Descubra nichos inexplorados e novas palavras-chave para seus aplicativos
Base de Dados de Nichos inexplorados
Navegue pelos milhares de nichos inexplorados anteriormente encontrados por outros usuários
Entre os melhores
Competir com outros usuários no quadro de líderes e ser recompensado pelo seu progresso
Suporte One-on-One
Obtenha seu próprio aplicativo-guru humano para ajudá-lo a crescer seu negócio
---
01-22-2018, 10:23 PM
Page 12 (The above is first post of this thread)
Member
Posts:
68
Threads:
0
Joined:
Dec 2019
Reputation:
Country:
Follow these steps:
Step 1: Find articles that has top 10, top 50 or anything that has compilation of
awesome things. For example, (Example only, not PLR)
You must reply to this thread to see hidden links.
[/url]
Step 2: Copy the article and get relevant pictures.
Step 3: Now open up your video creation tool such as movie maker, camtasia and
etc. I use Sony Vegas for creating videos.
Step 4: Paste the articles and pictures that you've copied a while ago.
Step 5: Now go to your Youtube channel and click creation tools > Audio Library
[Image: 8d6e6257edc5b3fca2f46066beb3362d.png]
Choose the music that you like and add it to your video creation tool.
Step 6: Once you're done with your top 10 video and have successfully ranked it,
upload it and set the Monetization on. If you don't know how to set the Monetization on your videos and channels go to this link:
You must reply to this thread to see hidden links.
[url=https://www.youtube.com/account_monetization]
Source Point of Orignal
You must reply to this thread to see hidden links.
---
01-07-2020, 11:30 PM
Users browsing this thread: 1 Guest(s)